M&A CREATIVE: Every brand has a story to discover
noviembre 23, 2018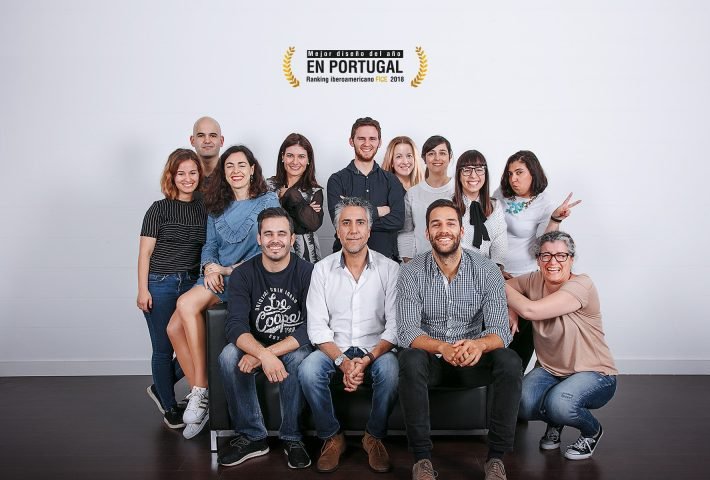 TELL US MORE ABOUT M&A CREATIVE AGENCY.
M & A Creative Agency is a Portuguese independent agency, created in April 1998 (20 years of history…yes, it's true), founded by Luis Marques and Filipe Marques. The Agency is the result of a dream of 2 young professionals at the beginning of their career, with the aim to create a project that surpasses the expectations of the excellence in communication and advertising in Portugal, in an environment clearly dominated by large multinational Agencies.
Our way to live the business and make it growth as a responsible organization has remained the same through the years. We had the vision to assume us as a communication partner for our clients, providing a 360º integrated service and creating added value to the brands, with a strong sense of results orientation.
We do not consider ourselves to be different, but we are quite unique in our collective essence: we are inspired, focused, dedicated, original, lively and, of course, creative. We constantly seek new for challenges and new opportunities to create, communicate and engage brands with enthusiasm.
This is the motto of our team: we believe that every brand has a story to discover and our passion is to communicate it!
HOW DO YOU FEEL YOURSELVES: NATIONAL OR AN INTERNATIONAL OPERATION? WHY?
DO YOU HAVE ANY PLANS FOR INTERNATIONAL EXPANSION?
We are a Portuguese Agency with a strategy focused first on the Portuguese market, in which we believe there is still a lot of growth potential, particularly in sectors such as wine and distillates, food and industry, in which our Agency has developed a specialization and great dedication to the along our route.
Considering the results achieved in recent years, winning several Design Awards in Europe, South America and Asia, we believe that our path has been very positive, and in the near future we will reinforce our strategy towards this way.
Recently we have opened the US delegation (New York), focusing not only in this market but also in the Latin American markets, but we never leave out of our reach Europe and Asia.
Of course, we can't forget that we are the communication agency of the M&A Group, and in this ecosystem there is also a consistent growth, aiming the expansion towards international markets.
HOW TO SUCCEED AS AN INDEPENDENT AGENCY EXPORTING SERVICE TO NEW MARKETS?

We are aware that being an independent agency the effort of communication and raising new clients is more demanding, although we have always focus delivering in differentiation and high-quality creative services.
Also quite important has been our own communication strategy through media and social media, which has been an excellent vehicle of brand awareness and sure had leads us to some of the awards received in the past years, helping us to export our services to very different markets around the globe.
HOW CAN YOU REFLECT THE BRAND MESSAGE INTO THE DESIGN?
Each and every design fulfills a goal to communicate a message, experience and values of a brand.
So, when we are creating a piece, we're not only taking it as an account, we take the entire strategy of the brand, product or service. The knowledge and experience acquired over the years, the ability to learn about the brand identity, positioning the product and the target audience, are fundamental in this creative process.
The result, must be always the brand DNA.
WHICH IS THE MOST IMPORTANT INGREDIENT THAT MAKES YOU UNIQUE?
On this point we could present a broad set of arguments, however we believe that this differentiation boils down to knowledge, experience and creativity.
We don't follow a pattern or a style … we interpret the needs of each client/brand individually and we create a concept that is right for the product, brand or business!
Technical knowledge is also fundamental and sometimes decisive in the excellent final result of each project.
WHAT IS YOUR OPINION ABOUT THE PORTUGUESE CONSUMER?
The Portuguese professional consumer is still in a process of developing due the raising necessity of all the business to growth and export. Also quite important is the external influences that are being processed by the astonishing raising of the tourism market across the country.
Concerning the overal consumer, we can say without any doubt that is a super well informed, high-tech lover, and more and more exquisite in their brand universe selection consumer.
In my opinion, great changes are happening across the globe, and in this matter the expansion and speed of communication, are influencing all and everything. People's mindset is definitely changing in a very complex way for some, and super easy for others. Very soon, we will be challenged by the consumers to communicate really one-to-one, but who rules the conversation will no longer be the brand.
WHAT MAKES BIG BRANDS TRUST TO YOU THEIR BRANDS COMMUNICATION?
We believe that is our know-how, expertise and specialization in certain areas, which allow us to provide added value services.
Nevertheless we also need to add the fact that we are a very flexible creative team, we know well the markets for where we are working, and then is quite easy for us to stablish bounds with the potential customers.
What do you think about the rising FICE ranking, in which finally, THERE will be known THE Best of each country and Latin America, in the Total Ranking with the best of the year?
This ranking is very interesting because, in addition to the recognition of the quality of the work developed over a year, it promotes internationally the Independent Agencies on their merit.
This recognition in Portugal and internationally will undoubtedly be a gateway in some Latin American markets and a bridge to new business opportunities.